One of this year's most significant events will be the launch of ESA's Herschel-Planck spacecraft.

The launch date, contrary to that announced in a

release from ESA

dating from yesterday, will not take place in July, just before Christmas the schedule was adjusted to baseline a launch on October 31 2008.

If delays can be seen as something negative, on this blogger's perspective this particular one gives me reasons to smile...
Some months ago I challenged Leo Metcalfe, Herschel's Science Operations Manager, for something different in spacEurope's realm.

For my surprise the answer, from someone drowning in hardwork by now, was positive and I'm now in conditions to post Leo's first collaboration with spacEurope which is just the begining of a, in my opinion, fantastic way of following the mission's steps until its launch 9 months from now.

Leo Metcalfe will be, starting from now, present at spacEurope with a monthly entry, giving us his insights, sharing with spacEurope's readers the details of what is being done for taking Herschel's from Earth into space with the goal of revealing us a whole new ground in Universe's understanding.

Four days after

the arrival of the Herschel Flight Model at ESTEC

where it will now and during the following months under several test, this is great way of starting this year, a great gift for this blog on the week it completes a year of activity.

Let's read the Captain's words...




NECESSARY BACKGROUND to this Log:



ESA's Herschel mission is a far-infrared space observatory flying a 3.5 metre diameter cryogenically cooled (Liquid-Helium cooled) telescope to the L2 (Lagrange 2) point of the Earth-Sun system, where it will operate in the service of the Worldwide astronomical community for at least three years. The planned launch date is October 31 2008, on an Ariane 5 launcher from Guiana Space Centre.

The Herschel Science Centre (HSC) located at ESA's facility ESAC (European Space Astronomy Centre), near Madrid, Spain, is ESA's service centre for the astronomical community, supporting all aspects of their usage of the Herschel mission. It liaises with the Instrument Control Centres (ICCs) run by the Principal Investigator (PI) teams that built the Herschel scientific instruments (the payload) and that support payload operation in Space.
It liaises with the US NASA Herschel Science Center (NHSC) at the Infrared Processing and Analysis Center (IPAC), located at CalTech, which provides dedicated support to the US astronomical community. It also liaises with the Mission Operations Centre (MOC) at ESA's European Space Operations Centre (ESOC) in Darmstadt, Germany, which takes care of the spacecraft in-flight. And at least until the end of in-flight checkout it liaises with the ESA Project team at the European Space Research and Technology Centre (ESTEC) in the Netherlands, which coordinates the pre-launch development of the spacecraft and its payload in industry and academia.





HSCOM Log

First entry

JD 2454474.41667

:)

Having been asked by Rui Borges to write a sort of personalised log of my experiences on the
ESA Herschel mission
(read
more
about the mission) in its final year before launch, I couldn't resist the temptation to start with a "Captain's Log, stardate nnn" format (but I've used the Julian Date)!

I took up duty as Science Operations Manager for Herschel (HSCOM) on September 1 2007. The HSCOM manages the activities of the Herschel Science Centre (HSC) at ESAC during Operations and in the run-up to Operations.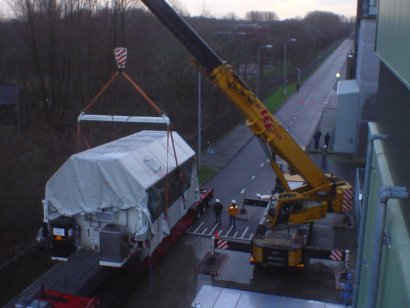 Saturday, 5 January 2008, the Herschel Flight Model spacecraft arrives at ESTEC. At the test center the spacecraft transport container is hoisted from the transporter truck. Credit: ESA
Joining a mission like Herschel in the last year before launch is a lot like falling into a fast-flowing river. I can think of no better analogy. A complex of activities are surging forward. One has to sink or swim. If all goes well, after a while one finds oneself in a servicable boat floating along with the current. In my case the boat is called the Herschel Science Operations Team - we call it HOT for-short.

To invoke one more analogy, a Project like Herschel may fairly be described as a modern equivalent of building a cathedral in the middle ages. Hundreds of artisans work for decades to pass from inception to execution. (Herschel was first discussed in the early '80s or even earlier.) The investment of society is substantial and the cultural impacts large. Such a Project is vast, and it can take years to begin to see into all of its corners. In joining this mission at this stage one is entering into a system into which countless colleagues have already invested years and years of intensive work.

How would I log my experiences to date?

A great deal of travel to become familiar with the various groups involved in the mission all over Europe and beyond. Meeting many old friends and colleagues known from ESA's earlier infrared mission, ISO, on which I worked for 14 years. Making viewgraphs with the Operations Engineer while flying from one meeting to another. Losing a lot of sleep. Burying my desk in documents. Many many meetings - but necessary ones - because all these people and groups have to communicate and work together, and whatever about the future of communications technology there is still nothing to compare with face-to-face communication when it comes to team-building and getting a team to function and be motivated.
When Herschel flies all of these widespread and diverse groups: HSC, ICCs, NHSC, MOC have to function as one great well-oiled machine. Interestingly, I don't say one great team, because the team concept applies on the smaller scale of the components of the overall process. Each involved centre generates a team. A team may extend across geographical centres if their activities have enough in common. So team-building is a huge part of the experience of the run-up to launch, and the honing and tuning and polishing of the team's operation as it develops and applies the systems and procedures that will form the great process of the operational
mission.
A key concept in the next half-year will be simulation, as the operational process is practised and rehearsed by the component teams and their mutual interfaces are exercised.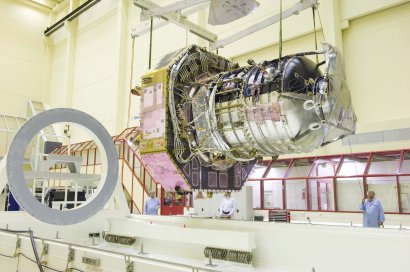 The Herschel Flight Model spacecraft is lifted from its transport container to be placed on its Multi Purpose Trolley. Credit: ESA
It's an exciting time.

This log begins then at the end of my first four months in the Herschel mission. Those months have seen the formation of the core Herschel Science Operations Team (HOT) and its steady growth towards operational strength, and ground-work towards the operational interactions with the Instrument Control Centres (ICCs); intensive interaction with the astronomical community to gather the astronomical observations that will be performed in the first year or so of the mission. The critical schedule elements to have the Science Team ready for launch are agreed.

The iconic reality for this period is the Team. The Team grows. The Team must be ready. And the Team is a good team. The people who do this care a lot about what they do and for good or ill their jobs form a big part of who they are, and it is a truly great privilege to become a member of such a team.

In the months to come I will try to convey something of the experience of the intensity and stress and excitement of life in the fast-flowing river.

Leo Metcalfe (HSCOM)